Hear from 50+ expert speakers
Network with 400+ attendees
Meet 20+ exhibitors
Identify growth opportunities, secure investment and form partnerships
Get instant access to your copy of the PDF conference brochure now >>>>
50+ Expert Speakers Will Help Guide Your Business in the Northeast, Including: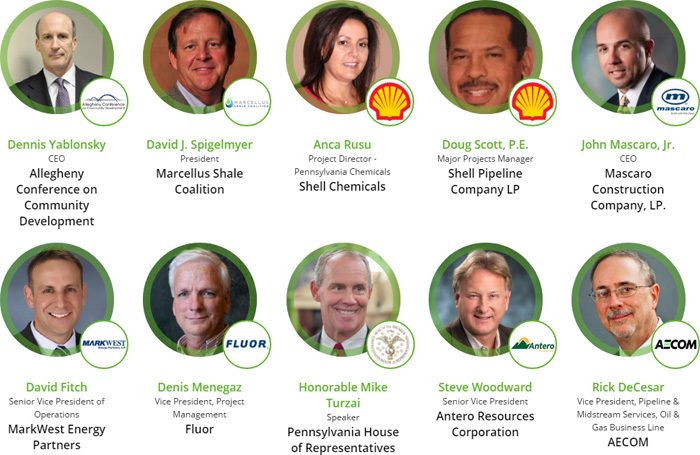 We have gathered some of the most influential business, government and labor leaders, policy-makers, entrepreneurs, investors, consultants and others who are driving the transformation of the Northeast US economy into a regional petrochemical powerhouse. Their insights are key to understanding the trends at play:

Doug Scott, P.E. Major Projects Manager, Shell Pipeline Company LP
Rick DeCesar, Vice President - Appalachian Basin, AECOM
Anca Rusu, Project Director – Pennsylvania Chemicals, Shell Chemicals

Denis Menegaz, Vice President, Project Management, Fluor
Ian Rubin, Director – Commercial Development, Braskem America
Honorable Mike Turzai, Speaker, Pennsylvania House of Representative
Peter Swift, Principle, Origination, EQT
Joseph C. Eddy, President/CEO, Eagle Manufacturing Company
Steve Woodward, Senior Vice President, Antero Resources Corporation
Dennis Yabolnsky, CEO, Allegheny Conference on Community Development
David Hooker, CEO/Managing Director, Mountaineer NGL Storage LLC
Erikhans Kok, Associate Partner, McKinsey & Company
Joseph Minnitte, External Relations Advisor, Shell Chemicals
David Spigelmyer, President, Marcellus Shale Coalition
Get instant access to your copy of the PDF conference brochure now >>>>

Why you should attend:

If you want to understand how petrochemical development in the Northeast US will change the business & labor landscape, or are working with petrochemical producers on engineering & construction projects in the region (or plan to be) – join us in Pittsburgh next June.

You'll:

Find new opportunities to address regional engineering and construction challenges, such as workforce development
Understand in granular detail what ethane cracker projects like Shell's Project Franklin mean for region
Be among the first to understand how you can leverage the emergence of a regional petrochemical sector in the Northeast US
Meet face-to-face with 450+ other petrochemical producers, innovators, investors, customers and thought leaders
Discover business, investment, partnership, hiring, learning and career opportunities
Get instant access to your copy of the PDF conference brochure now >>>>



Kind regards,
Theo

Northeast US Petrochemical Construction Conference 2017
June 19-20, Pittsburgh




Theo Larn-Jones
Project Director
Petrochemical Update
+44 (0)20 7422 4320 (UK Office)
1-800-814-3459 ext. 4320 (USA Toll Free)
theo@petchem-update.com

Petrochemical Update is a trading name of FC Business Intelligence Ltd.
Registered in England and Wales no.4388971. Registered address 7-9 Fashion Street, London, E1 6PX, UK | Terms and conditions
Instant Access to the 10-Page Conference Brochure Here:

We announce updates via email first. Leave your details, and request a PDF conference brochure here, to be the first to know.