New Industry Whitepaper:


US POLYETHYLENE EXPORT MARKET WHITEPAPER 2017-2020

Complimentary 60+ page whitepaper providing detailed market analysis on the fast changing US Polyethylene Export Market


Key Features of the Whitepaper Include: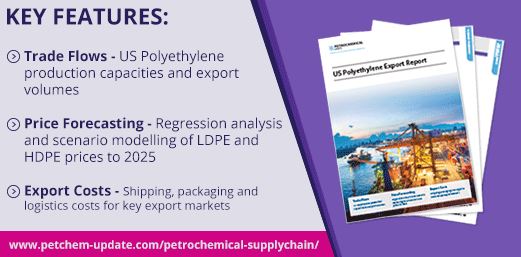 Fill in the form on the right to receive the whitepaper direct to your inbox >>>>



The purpose of this paper is to explore the economic viability of exporting U.S. polyethylene over the 2017–2020-time horizon. The paper is a multidisciplinary study, which evaluates the multiplicity of factors associated with the export of polyethylene. The report focuses on three primary market areas: The U.S., Northwest Europe, and Asia.

Summary of the Papers Chapters:

Chapter 1 - Introduces petrochemical building block products, the primary feedstocks for those products, and the processes through which ethylene and the associated cracker yield products are produced. The chapter also summarizes current associated export logistics options.
Chapter 2 - U.S. market fundamentals are detailed by product, including supply, demand, pricing, export forecast, and export logistics. In detailing supply and demand conditions, the projected production volumes and the implication of new capacity investments are presented.
Chapter 3 - International Market Fundamentals, Export opportunities and challenges are detailed
Chapter 4 - Presents data related to the competitiveness of U.S. exports. detailing the costs for U.S. supply, export options, and terminals as well as the feedstock trade off costs. The pricing and cost evaluations presented in the previous chapters are combined to develop the U.S. netback and margin calculations and to identify U.S. exports competitiveness opportunities.
Chapter 5 - Details the report conclusions and key messages.
I hope you enjoy the white paper. Let me know if you have any question or feedback!

Many thanks,
Karla

Karla Michelle Sharp
Senior Project Director
Petrochemical Update
+44 (0)20 7422 4321 (UK Office)
+1 800-814-3459 ext. 4321 (USA Toll Free)
E: karla@petchem-update.com

Petrochemical Update is a trading name of FC Business Intelligence Ltd.
Registered in England and Wales no.4388971. Registered address 7-9 Fashion Street, London, E1 6PX, UK | Terms and conditions