Petrochemical Update is a trading name of FC Business Intelligence Ltd.
Registered in England and Wales no.4388971. Registered address 7-9 Fashion Street, London, E1 6PX, UK | Terms and conditions
US ETHYLENE COMPLEX CONSTRUCTION
COSTS DATA 2018 – 2020
Register now for the Downstream 2018 Conference & Expo >>>
Major Equipment | Labor Rates | Indirect Costs | Bulk Materials
Evaluate the anticipated cost of constructing a 1.5 M Ton per year Ethylene facility in either the Gulf Coast or in the North-East region of the United States.
Register now for the Downstream 2018 Conference & Expo with $300 off >>>
View the Construction Costs report below:
Shared in association with DECM 2018. Get your colleagues $200 off with
discount code PEER200 >>>
I hope you enjoyed this podcast and we look forward to welcoming you to Downstream Engineering, Construction & Maintenance (DECM 2018) on May 31 – June 1 in Galveston, TX.
For more information or feedback on the above, please get in touch.
Kind regards,
Karla
Trouble accessing? Click here


Key features of the report include:
Detailed Construction Costs Data- for a 1.5M ton per year ethylene facility in the US Gulf Coast and North East, including major equipment, bulk materials and indirect costs
Labour Costs & Productivity Data: Understand the current labor costs on US ethylene projects, how costs are changing and current productivity data
Escalation Forecasts 2018 – 2020: Learn how labor and material costs are expected to change over the next few years
Latest Updates from Downstream 2018
THE LEADING EVENT FOR THE DOWNSTREAM INDUSTRY

FEATURED SESSIONS: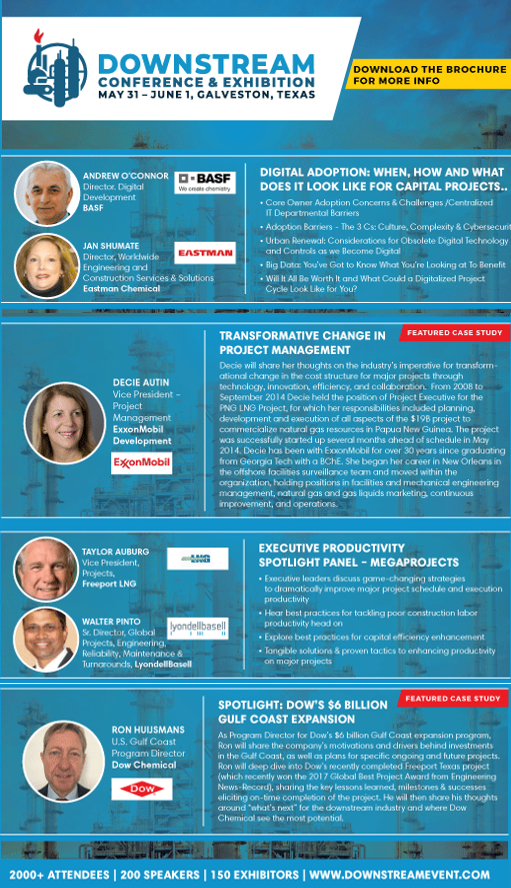 Secure your place with $300 off here >>>

Or visit www.downstreamevent.com for more info
For more information or feedback on the above, please get in touch.
Many thanks,
Karla
Downstream 2018
Conference & Exhibition

May 31 – June 2018, Galveston TX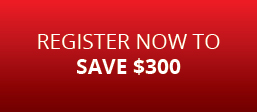 Confirmed 2018 Attendees Include:
Sr Vice President Operations - American Refining Group
Chief Operating Officer - INDORAMA
Module Construction Director - BASF
Global EPC Contract Manager – Dow Chemical
Project Director - Freeport LNG
VP Engineering - Husky Energy
Construction & Modularisation Manager - ExxonMobil
Senior Superintendent – Construction - Cheniere Energy
Vice President Engineering & Construction - Westlake Chemical
EVP - Projects & Engineeering - Badlands NGL
Global Construction Manager - Invista
Project Engineering Superintendent - Phillips 66
Senior Global Project Manager - Hexion
Capital Project Procurement Manager - Chevron Phillips Chemical
Project Manager - Occidendal Chemical Corporation
Lead Project Engineer - Andeavour
Sr Manager Global Projects - Sabic
Director Worldwide Engineering and Construction - Eastman Chemical
Chief Engineer - ExxonMobil
Project Development Supervisor - PBF Energy
Project Director - Inter Pipeline Polypropylene
Director Innovative Technologies & Implementation Division - New Stream
Construction Team Leader - NOVA Chemicals
Project Manager - Occidental Chemical Corporation
Project Development Supervisor - PBF Energy
Head of Engineering Projects - Qatar Fuel Additives Company
Senior Major Projects Manager - Marathon Petroleum
Karla Sharp
Senior Director – Downstream Engineering & Construction
Petrochemical Update
T: +44 (0)20 7422 4321 (UK Office)
USA Toll Free: 1800-814-3459 ext. 4321
E: karla@petchem-update.com