Key Numbers for Downstream 2019:
Downstream 2019 is the leading event for the Downstream Industry. By downloading the official event brochure you'll receive all the latest information on:

Conference Agenda: Full overview of the hottest topics that will be discussed in 2019 including our world leading speaker line up, across 5 targeted industry tracks including: Engineering & Construction, Reliability & Maintenance, Shutdown & Turnarounds, Supply Chain & Logistics and Process Engineering.


Exhibition Overview: Take a look at the floorplan for this year's knockout exhibition! Featuring 350+ innovative exhibitors and 4 dedicated content theatres, providing free-to-attend technical and educational seminars / workshops addressing daily challenges faced by operators. Our sold-out exhibition will also play host to live demonstration zones where you will be able to get hands on and up close with the next generation of product innovations destined to revolutionize the industry.
Bespoke Meeting Service Information: With over 10,000+ Downstream professionals and boasting a 35%+ owner / operator ratio, the event attracts whole teams from all of the majors including Exxon, Shell, Chevron, BP, Total, CP Chem, Dow Chemical and many more. In order to maximize your time on-site discover how getting premium access to our 1-2-1 meeting will ensure you get face time with the people that matter.
Specialist Events Program: It's not just about the conference room and expo floor, take a look at our specialist events program including workshops and working groups on workforce development, inclusion & diversity & our dedicated student attendance program.
Complete the form on the right-hand side to reserve a copy of the full event brochure >>>
Why Downstream 2019 is the #1 meeting point for top decision makers:
Complete the form on the right-hand side to reserve a copy of the full event brochure >>>
Kind regards,
Petrochemical Update is a trading name of FCBI Energy Ltd.
Registered in England and Wales no.4388971. Registered address 7-9 Fashion Street, London, E1 6PX, UK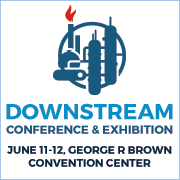 Get your brochure today

Simply confirm your details to get the full agenda, speaker line up, attendee and floorplan as soon as they're launched!
Download your brochure to the world's biggest Downstream event